June 21,2021
BOLIN TECHNOLOGYMAKES ITS DEBUT AS ONE OF
Audinate's FIRST
Dante AV ADOPTERS,
WITH AN EXTRAODINARY PTZ CAMERA AND DECODER.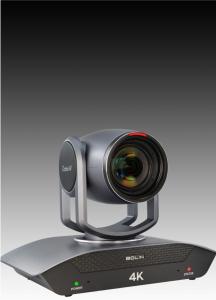 Bolin Technology, an industry leader in the design and manufacture of high-quality Pan Tilt Zoom (PTZ) cameras, has introduced their new D-series PTZ cameras featuring Dante AV. The D-series camera is available in both HD and 4K resolutions featuring incredibly smooth pan and tilt operations . The D-series' low latency and high image quality make them ideal for live production, houses of worship, corporate conferencing, higher education, and broadcast, among many other applications. Bolin is also releasing a Dante AV decoder to work with a Dante AV network.
Bolin Technology specializes in offering the best visual solution in Video over IP technology today. Dante AV ensures interoperability with existing products, delivering professional audio and video over 1Gbps networks.
For more information about purchasing the Bolin D-series PTZ cameras and decoders, please visit: www.bolintechnology.com